Would you like a "cuppa"?
Afternoon tea is the perfect way to get to know each other AND learn how to empower family independence.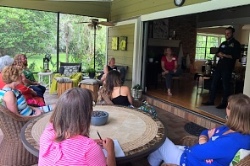 The next tea will be August 17 from 2:30pm-4:00pm at Faye D.'s home. 
When you register you will receive an e-mail with the address.  
Contact jackiea@christianhelp.org with any questions or make her day by volunteering on the planning committee.
Click HERE to see pictures from past teas.   
Contact Information