In the books of Matthew and Mark, Jesus tells us to "Love our neighbors as ourselves." 
At Christian HELP, our neighborhood is vast and the need is great. There are over 39,000 people in Orange County and 13,000 people in Seminole County who are still unemployed.
When you give to Christian HELP, you are loving your neighbor by equipping and empowering them for employment through us.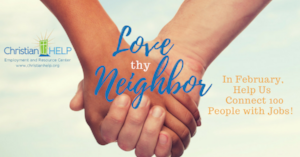 Click below to create your own Fundraising Page or Team to help us connect at least 100 people with a job.  
It's easy and fun and gives people a chance to love their neighbor and make a difference locally.