Business Hours
9:30am-5:00pm Monday-Thursday
9:30am- 4:00pm Friday
Client Hours
New Clients: Monday & Friday Only 9:30am-2:30pm (walk-in)
Repeat Client Visits by Appointment 
Providing Material Needs
One of our main concerns has always been to ensure we not only provide spiritual support, but also that we provide for basic needs. It is difficult for struggling individuals to focus on a job search when they have no food, or they have to make a choice between eating or paying a bill. We thank Him every day for providing exactly what we need to help the clients with their basic needs.  

Food Pantry

Through our relationship with Second Harvest and several local markets, we maintain a large stock of food to provide immediate assistance for those who are eligible. We have a fantastic team of volunteers who pick up, transport, sort, store and distribute this food to those in need on a daily basis.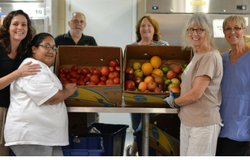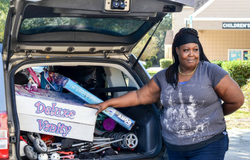 Agency Referrals

We may not always have the supplies that any given client will need on any given day, but we are able to refer them to agencies and organizations that may have those resources and may be able to offer the needed assistance. 

Christmas Program

Each year we offer a Christmas Program through which we provide toys for the children and teens of qualified families that are not able to give them Christmas presents. Throughout the year, extra toys are used as birthday gifts as supplies are available.