Ann Courtney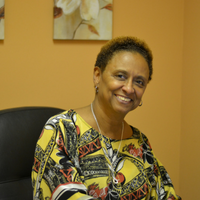 Ann relocated to Central Florida 3+ years ago thinking she was ready for retirement. After one year, she felt that there was more purpose in her life to be had than shopping, being a tourist or sitting and watching television every day, so a friend suggested she volunteer.
She started volunteering at Christian HELP's food pantry two days a week and quickly realized that Christian HELP had many more volunteer positions to fill. She eventually began serving full time processing client paperwork and ultimately helping them find jobs.
Every day for Ann is an opportunity to help others with hope and encouragement. Today Ann is out of retirement and employed as the full-time Lead Care Manager for Christian HELP. She has found this to be one of the best and most fulfilling times of her life.
When she is not helping people navigate the job search arena she still enjoys shopping or that occasional t.v. show from the comfort of her recliner.